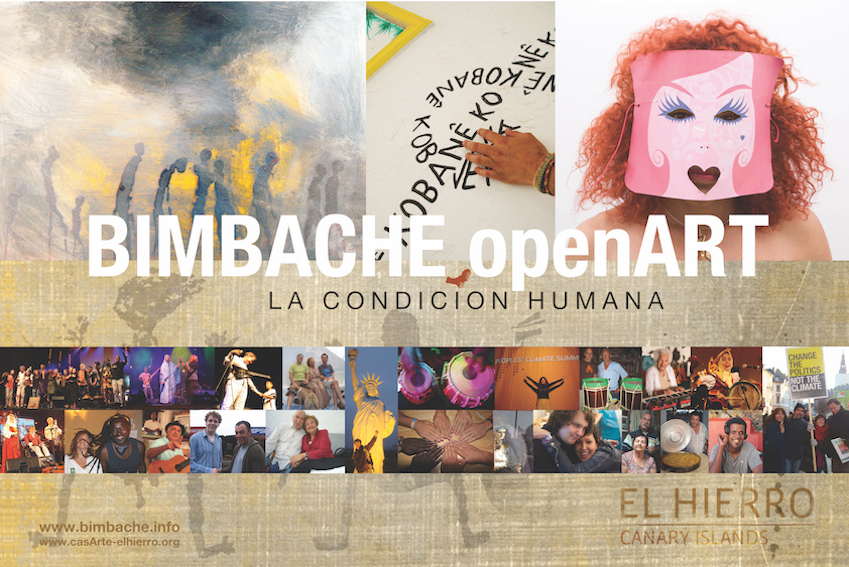 The 16th annual BIMBACHE openART Festival 2020 will consist of an ongoing series of laboratories and events throughout the coming months. On August 1, the series starts with two weeks of CONVIVENCIA ARTÍSTICA EN CLAUSURA featuring some of our core participants in past editions of our annual lab festivals such as

Torsten de Winkel
Kike Perdomo
Luisa Machado
Alberto "Naranja" Méndez
Ismailah Thiam
and, at now 95 years of age, our dear María Mérida,

in virtual and, wherever possible, live interdisciplinary encounters with our present casArte resident artists, among them

Belja Namoari & Giovannina Sequeira (contemporary dance)
Andrea Sunder-Plassmann (digital and analog art)
Mireia Tramunt (painting)
Alexis W (photography)

and others.

We will share with all of you as much as may be possible of the processes, labors and performances developing here during that time as well as our round table talks on various subjects, including
– What post-Corona world do we wish to help create?
– 15 years of Bimbache opeART labs on art and sustainability: a tight rope walk between mutually exclusive goals?
– Peaceful and inclusive resolution of conflicts – judging vs. accepting modes
– Traditions & avantgarde: from Buddhism to Neurobiology
– El Hierro as individual and collective therapy: developing new frames of reference
Please check our Bimbache openART fb page and the fb page of Jaleo Press for details and updates.

On Wednesday, August 5 at 18:00 h local time, Tomás Luis Pérez of Jaleo Press will broadcast 2 hours of live interviews from Plaza Tigaday in Frontera, guests will include María Mérida.

During the week from August 6 to 13, we will collectively shoot several music & dance videos at emblematic spots of the island of El Hierro, among them the Roque de Bonanza, Mirador de La Peña, Garoé, Guinea, and others. Clips will be excerpted and published weekly from November 1 on.
During October and into November, we will enjoy concurrent visits by Tommy Height (Canada), David Ballesteros (Spain), Ohara Hale (USA), Samuel Lööf (Sweden), Nick Catton (GB) and other artists from a broad spectrum of disciplines.

NOTE: If you are a neighbor or in the neighborhood, we will frequently post schedules of little performances in our casArte open-air front areas facing the street so that all of you may enjoy some of what's going on artistically this year from the safety of your house or car. If you're not, you will continually find new clips on our pages as specified above. Enjoy!