• Join our 15th anniversary celebrations beginning on 27 April 2019
Main events:  3 May  Frontera (El Hierro),  4 May  Los Llanos (La Palma) •

Beyond all boundaries
Celebrating diversity – From leading artists, scientists and representatives of traditions from around the world to students and persons with physical and mental disabilities, the Bimbache openART global initiative, endorsed by UNESCO, connects and integrates the broadest possible range of people interested in the development of sustainable socio-cultural models for a globalized world and intelligent growth. We are an open platform and encourage your participation.
Bimbache openART Festival El Hierro • casArte Artists-in-Residence Program

The Bimbache Festival Ensemble is available for concerts, festivals and tours. Booking
Invited to EXPO 2008 & 2012 • KLIMAFORUM09 Copenhagen • Cradle-to-Cradle Festival Berlin • New York City • Nanjing World Festival • Hamburg, European Green Capital 2011


on facebook:
The program for the upcoming celebrations of our 15th year BIMBACHE openART is completed!It's been a tough year and quite a few near sleepless nights, but here goes:

Gepostet von Bimbache open ART am Mittwoch, 17. April 2019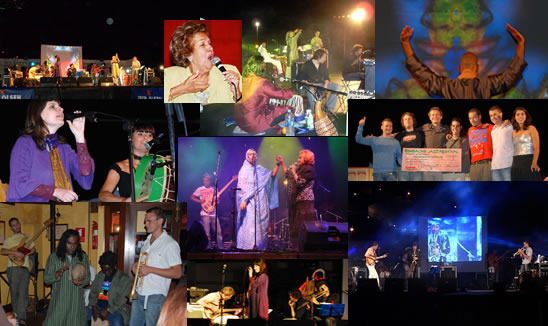 How to achieve the impossible.
change the conditions which cause the impossibility
How to achieve the possible.
attempt the impossible
As artists, we believe that aesthetics should not be a means to exclude and polarize, but to include and inspire. In this spirit, the music presented here is performed by musicians hailing from as many different cultural as musical traditions in ever-varying constellations. The substance of the proven meets, mingles and toys with the urgency of the new, the yet illegitimate.
With remarkably little effort, many entrenched divisions are being bridged here: young and old, amateur and master musicians from five continents prove that there indeed is an international language, spoken by all who care enough to not mind the effort to seek what unites us rather than to indulge our competitive instincts, who understand that our mere humanity makes us all the same.                                                        – Torsten de Winkel
"If we are to have peace on earth… our loyalties must transcend our race, our tribe, our class, and our nation; and this means we must develop a world perspective. No individual can live alone, no nation can live alone, and as long as we try, the more we are going to have war in this world. We must either learn to live together as brothers or we are all going
to perish together as fools."                                                             – Martin Luther King