Bimbache openART / Asociación Bimbache P.O.C.S. is a registered non-profit and non-government organization dedicated to sustainable ecological, technological and socio-cultural development.
Members and associates include leading artists, scientists, thinkers, representatives of different spiritual traditions, politicians, organizations of disabled persons and regular people around the world.
Bimbache openART is recommended by UNESCO Centro de Canarias and has been presented at EXPO 2008, KLIMAFORUM09 Copenhagen, Cradle2Cradle Festival Berlin,  Hamburg European Green Capital 2011, and other events around the globe.
Be a part of it – contact us.
BIMBACHE openART Initiative
Asociación Bimbache
para la Promoción de Obras Culturales y Sociales
c/o El Sitio
La Carrera 26
E-38911 La Frontera, Isla de El Hierro
Phone: +34.922 55 98 43
+34.696 600 976
E-Mail: info[at]bimbache.info
www.facebook.com/BIMBACHEopenART
www.myspace.com/bimbache
Responsible visionaries   We are people, women and men, unbound by culture, religion, race or politics. We believe that change is possible when based in the power of community, in remembering who we are, respecting our roots and traditions. We create low-judgment-zones where all can meet as equals, reach for the new and yet unknown and create communities. We trust in the development of new practical and contemporary visions. And we know that if we want to create a peaceful world we have to start with ourselves.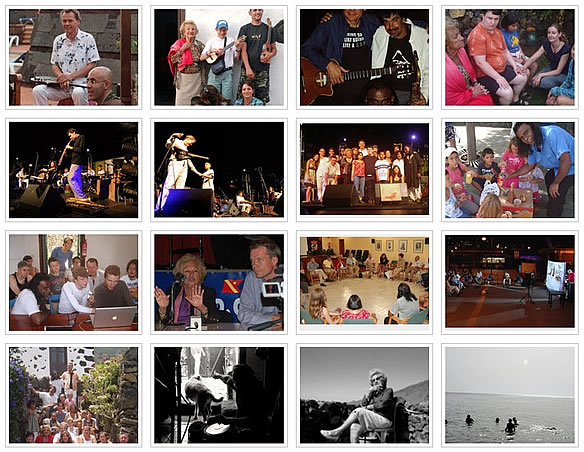 Fore more pictures see our Facebook-Page….
"You never change things by fighting the existing reality. To change something,  build a new model that makes the existing model obsolete." —R. Buckminster Fuller
"We are living through one of the most fundamental shifts in history – a change in the actual belief structure of Western society. No economic, political, or military power can compare with the power of a change of mind. By deliberately changing their images of reality, people are changing the world." —Willis Harman
Disclaimer
Limitation of liability for internal content
The content of our website has been compiled with meticulous care and to the best of our knowledge. However, we cannot assume any liability for the up-to-dateness, completeness or accuracy of any of the pages.Pursuant to section 7, para. 1 of the TMG (Telemediengesetz – Tele Media Act by German law), we as service providers are liable for our own content on these pages in accordance with general laws. However, pursuant to sections 8 to 10 of the TMG, we as service providers are not under obligation to monitor external information provided or stored on our website. Once we have become aware of a specific infringement of the law, we will immediately remove the content in question. Any liability concerning this matter can only be assumed from the point in time at which the infringement becomes known to us.
Limitation of liability for external links
Our website contains links to the websites of third parties ("external links"). As the content of these websites is not under our control, we cannot assume any liability for such external content. In all cases, the provider of information of the linked websites is liable for the content and accuracy of the information provided. At the point in time when the links were placed, no infringements of the law were recognisable to us. As soon as an infringement of the law becomes known to us, we will immediately remove the link in question.
Copyright
The content and works published on this website are governed by the copyright laws of Germany. Any duplication, processing, distribution or any form of utilisation beyond the scope of copyright law shall require the prior written consent of the author or authors in question.
Data protection
A visit to our website can result in the storage on our server of information about the access (date, time, page accessed). This does not represent any analysis of personal data (e.g., name, address or e-mail address). If personal data are collected, this only occurs – to the extent possible – with the prior consent of the user of the website. Any forwarding of the data to third parties without the express consent of the user shall not take place.
We would like to expressly point out that the transmission of data via the Internet (e.g., by e-mail) can offer security vulnerabilities. It is therefore impossible to safeguard the data completely against access by third parties. We cannot assume any liability for damages arising as a result of such security vulnerabilities.
The use by third parties of all published contact details for the purpose of advertising is expressly excluded. We reserve the right to take legal steps in the case of the unsolicited sending of advertising information; e.g., by means of spam mail.
Source: Mustervorlage.net