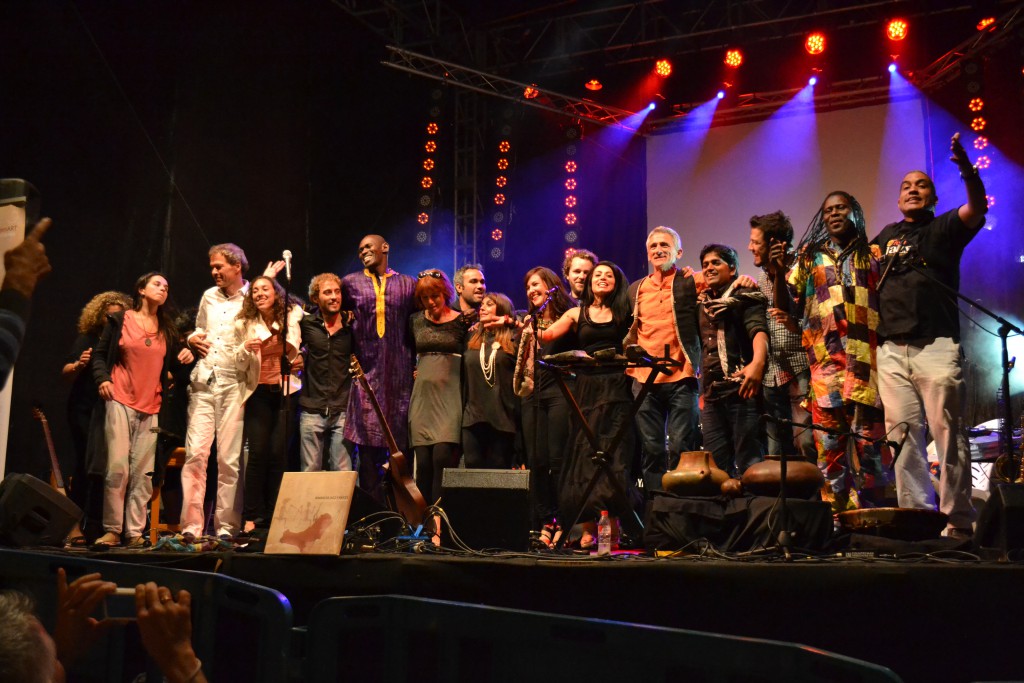 Torsten de Winkel presents the internationally acclaimed Bimbache openART Festival's Ensemble with astonishing arrangements of the music of Mercedes Sosa, Chavela Vargas, Los Panchos and traditions from El Hierro all the way to India.
A true Canary Islands All-Star cast featuring beloved singers Luisa Machado and Bibiana Monje, master saxophonist Kike Perdomo and bassist-composer Alberto "Naranja" in encounters with virtuoso instrumentalists from four continents, including Amit Mishra (India), Rodrigo Villalon and Juan Camilo Villa (Colombia). Special guests include Mikail Aslan, the East-Western Divan Ensemble, Devrim Kavalli, Ustad Ghulam Hussain and the One Earth Orchestra. *
"These world class musicians manage to merge styles and cultures with great joy, giving an exciting new sound to many of the greatest works from the treasured latin singer-songwriter repertoire."
"Fans of Sting's work with Branford Marsalis, Darryl Jones and Omar Hakim are bound to love this!"

AUDIO SAMPLE: BIMBACHE openART Festival Ensemble live
1-3 Apr  – Neu-Isenburg, Open World Academy: free master classes
13 Apr  – Neu-Isenburg, Open World Festival: workshops and encounters
14 Apr  – Neu-Isenburg, Open World Festival: collaborative concert with refugee musicians, One Earth Orchestra and many others
21 Apr  – Metzingen-Glems (Stuttgart area), Hirsch /Kulturverein Glems
22 Apr  – Frankfurt, Fabrik (full ensemble, plus EWDE / East-Western Divan Ensemble)
23 Apr  – Kassel, Weltmusikfestival (full ensemble, plus Mikail Aslan & EWDE)
5 May  – Hamburg, Planten un Blomen, 15-17h30! (w/ guests from Barner16)
6 May  – Lüchow-Dannenberg, Kulturelle Landpartie, Gallery Gnaegy (w/ Barner16)
* participating guests depend on dates and touring periods, please check concert listings.