Sonntag 13.3.2011
AEDES Forum für zeitgenössische Architektur, Pfefferberg
Redesigning culture: laboratories for human sustainabilty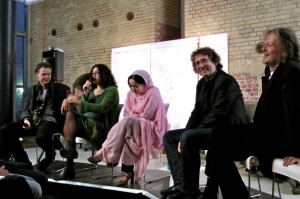 11:00 FilmART
– La Puerta del Sahara, S.Alvarado
– Reyes – Nuestra Historia, H. Gonzalez
– The New Boat People: West Africans on the way to Europe, Rotes Kreuz
– Erstaufführung:
BARNER 16 @ VI BIMBACHE openART Festival El Hierro (Tide TV)
ab 13:00 OPEN SPACE
 TAGOROR / Council Techniques / Open Space Movement
mit u.a.
• SCHMIEDE in Berlin, Leitung Torsten Fischer (Soziologe)
• Open Design City (Chris Döring)
• Kunst für Kinder (Workshop mit Rubén Armiche)
• TSLAGI (indianische Bewegungsmeditation, Sabine Willmann)
THEMENABEND Es gibt nichts Gutes, außer: man tut es

17:00 Offene "Elefantenrunde": Eine bessere Welt ist möglich!
Diskussion mit
Michael Schmidt-Salomon, Philosoph, Giordano-Bruno-Stiftung
Torsten de Winkel, Musiker, Initiator Bimbache openART
Prof. Michael Braungart, Umweltchemiker, EPEA Internationale Umweltforschung
Monika Griefahn, Ministerin a.D.
Jamal Zakari, Flüchtlingsvertreter West Sahara
u. a.
19:30 Tapas (spanische Snacks) @ Pfefferwerk Haus 13

20.00 BIMBACHE openArt Festival @ Pfefferwerk Haus 13
EINTRITT FREI / SPENDE
• La Gran Dama del Canto Canario in Berlin
MARÍA MÉRIDA & TORSTEN DE WINKEL
• Global openART Ensemble mit Carlos Bica, Kike Perdomo, Nantha Kumar, Christian Lohr u.a.
• Mehmet Can Özer (Türkei, contemporary electronic music & ethnic roots)
& Ruben Armiche (El Hierro, Action Painting)
• Bibiana Monje INTRO (Tenerife, Musik / Multimedia)
• Carsten Schnathorst (Barner16 inklusives Netzwerk von Künstlern mit und ohne Behinderungen, Hamburg)
anschließend JAM SESSION: The Music of Encounter
Ein stilübergreifendes Treffen von Musikern aus den Ensembles von Joss Stone, Pat Metheny, Maria Joao, Gianna Nannini, Placido Domingo u.a.
www.cradletocradlefestival.com
Bimbache openART
a laboratory for human sustainability • un laboratorio de sostenibilidad a nivel humano
We presently try to solve our sustainability problems on a technological and legal level. But it is human beings who have created these problems, and we must look at what in our culture turns us into addicts to expansion.
– Torsten de Winkel address at Klimaforum '09, Copenhagen
Estamos intentando resolver nuestros problemas de sostenibilidad a un nivel tecnológico y legal.
Pero son los seres humanos los que han creado estos problemas, y tenemos que mirar qué hay en nuestra cultura que nos convierte a todos en adictos a la expansión.
– Torsten de Winkel en Klimaforum '09, Copenhague